What you have to know about shower seats
What you have to know about shower seats
Introduction of shower seats
If you live with your parents or children, a shower seat will be a good choice as it may bring great convenience that you have never realized. Folding shower seat varies according to their material and shapes. The height of shower seats can be tall, middle or short, making them suitable for different uses. As the society developing, shower seats also promotes their appearance.
HOIS35408 Wood Folding Shower Seat
The wooden shower seat is composed of wooden material, has painting finish that keeps surface smooth and vivid. Dimension of shower seat could be 38*31cm.
Material: Stainless Steel,Wood
Color: Brown,Natural
Length: 15 inch (38 cm)
Weight Limit: 350 lb (160 kg)
Price Range: $$
Get it now on HomeRises.com
HOIS31528 Wall Mounted Folding Shower Seat
The wooden shower seat has painting finish that decorates surface exquisite and vivid, has wall mount installation type that provides convenience for daily life.
Material: Wood,Aluminum alloy
Color: Brown
Length: 12.6 inch (32 cm)
Weight Limit: 330 lbs (150 kg)
Price Range: $$
Get it now on HomeRises.com
Material of shower seats
Plastic
Plastic stools are widely used for its several advantages. They are portable for easy storage; a design made in bottom, they can be fixed and anti-skidding; the reinforcing design lifts their strength; last but not least, the design of strip-type and hollow out makes them comfortable and breathability which makes the users feel cool.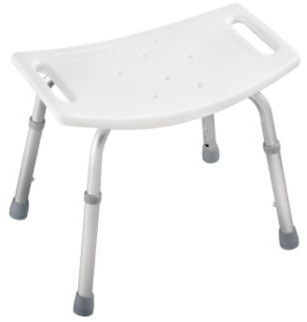 Solid wood
The wooden stools are totally handmade. As the technology of antisepsis being adopted, the wooden stools fit well with damp environment. They are user-friendly, indeformable, easy to keep and full of artistic breath.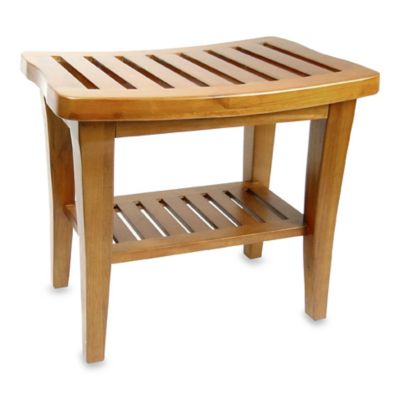 This kind of shower seats with antislip strips can be placed smooth and steady either on floor or tiles. On the side are two small holes, making them easy to take. Also they can be used as storage boxes. The dot on the top prevents it from falling off.
Furthermore, wooden and plastic stools can both be of the quantity of anti-skidding and antisepsis.
Height: usually 45-55 cm, depends on the user's stature
Material: plastic, stainless steel, aluminum alloy, wood.
Loading weight: 160-240kg